Black Seed Oil is an old world herb with very modern uses. It is produced from the seeds of the Nigella sativa plant and is one of the oldest herbal spices with recorded uses in many herbal systems and culinary traditions from Asia, the Middle East and Persia where it is often referred to as Habbatus sauda.
Nigella sativa seeds were found in an archeological site in Turkey dating from around 1650 BC. The oil and seeds have also been discovered in the tombs of Egyptian pharoahs and the uses of this miracle herb are praised in the holy hadith texts of Islam as prophet Muhammed (SAW) stated that Habbatus Sauda Oil "should be used regularly as it is a cure for every disease except death". Ibn Sina (Avicenna) also praised its use in his "Canon of Medicine" compiled in 1025 AD (see picture above).
Many of the ancient medicinal uses connected with Habbattus Sauda Oil have been confirmed by modern scientific research. Black Seed Oil contains s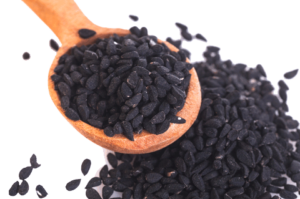 everal bioactive ingredients that have been the subject of more than 650 peer review, clinical and laboratory studies; the most well researched of which are thymoquinone and alpha-hederin. These studies have shown that Black Seed Oil taken internally has the following properties:
Anti-diabetic and improves insulin sensitivity
Anti-cancer and anti-tumour
Improves metabolism and weight loss
Immunomodulator and immune enhancer
Analgesic and pain relieving (internally and externally)
Antimicrobial
Anti-inflammatory and antiallergic (natural antihistamine)

Spasmolytic and vasorelaxant
Bronchodilator and anti-asthmatic
Hepato-protective
Renal protective
Gastro-protective and anti-ulcer

Antioxidant properties
Black Seed with Virgin Coconut Oil – the ultimate herbal synergy
High Quality Pure Black Seed Oil is too concentrated to be consumed on its own or applied externally and it needs to be diluted with a suitable carrier oil. Traditionally in the Middle East, Habbatus Sauda oil was combined with Virgin Olive Oil as a carrier oil. Virgin Coconut Oil has been shown to have superior synergy with Black Seed Oil as a result of its unique medium chain fatty acids (MCT's) that synergistically enhance the properties of Black Seed:
Why Rainforest Herbs Black Seed Oil?
Formulated by our Medical Herbalist, Rainforest Herbs Black Seed Oil contains a blend of pure cold-pressed Nigella sativa seed oil (30%) and Organic Virgin Coconut Oil (70%) in every 200ml bottle. No other ingredients added. Our Black Seed Oil has a wonderful fresh taste and aroma and is hygienically packed in an ISO22000 Food Facility.
Indigestion:
Black Seed Oil shows its fastest results in improving digestion and relieving stomach discomfort, gas and heartburn. Studies have shown it provides a natural protection from H. pylori infection, a common cause of gastric irritation and ulcer formation.
Energy enhancement:
Ibn Senna, also known as Avicenna, who wrote the great medical treatise 'The Canon of Medicine' in 1025 AD referred to black seed as the seed 'that stimulates the body's energy and helps recovery from fatigue'. Numerous scientific studies have shown that Black Seed Oil enhances health, vitality and multiple bodily system function and protects from toxicity and stress including the nervous, digestive, hormonal, immune, cardiovascular, urinary and respiratory systems.
Weight loss:
Both Black Cumin Seed Oil and Virgin Coconut Oil have been shown to promote healthy metabolism, weight loss and reduced waist circumference and have the added advantage of creating satiety and added energy that reduces food cravings and snacking between meals.
Asthma and allergies:
Black seed oil has been traditionally used to for respiratory problems, bronchitis, sinusitis and asthma and its effects have been confirmed in multiple scientific studies. As a powerful anti inflammatory and bronchodilator Black seed oil relaxes bronchial spasm and improves respiratory / pulmonary function. Of its active ingredients, nigellone, effectively inhibits histamine and thymoquinone protects from the damaging effects of smoking and relieves coughing.
Immunity:
Black Seed Oil increases white blood cells, in particular natural killer cells that seek out and destroy bacteria, viruses and fungi and program our innate immunity, including our defences to common bacterial infections, colds, flu and other viruses. Current research is focused on its anti-tumour and anticancer effects.
Memory & anti ageing:
Both Black Seed Oil and Virgin Coconut Oil have generated enormous scientific interest for their effects on protecting neurons from deterioration and improving memory and learning. Promising results have also been shown in studies treating conditions of ageing and the elderly, including memory loss, Alzheimer's disease, neurodegenerative conditions and Parkinsons Disease.
Used externally:
The synergy with Virgin Coconut Oil also enhances the healing properties for inflammatory skin diseases, protection from premature ageing and sun damage and promoting healthy hair growth. Since ancient times Black Seed Oil has also been used as a romantic massage oil that has dual hygienic and sensual enhancing properties.

Rainforest Herbs Black Seed Oil recommended daily intake:
Take 1 teaspoon (5ml) with meals twice daily for optimum levels of antioxidants.
Children – half the adult dosage.
Externally: Massage on painful joints, skin, scalp and hair as required.
Select Nigella sativa / Thymoquinone Scientific Studies (Click to open)

Effects of Nigella sativa oil extract on inflammatory cytokine response and oxidative stress status in patients with rheumatoid arthritis: a randomized, double-blind, placebo-controlled clinical trial
Hepatoprotective effects of Nigella sativa seed extract against acetaminophen-induced oxidative stress
Mechanisms of the antihypertensive effects of Nigella sativa oil in L-NAME-induced hypertensive rats
Alternative supplement for enhancement of reproductive health and metabolic profile among perimenopausal women: a novel role of Nigella sativa
Nigella sativa oil and thymoquinone ameliorate albuminuria and renal extracellular matrix accumulation in the experimental diabetic rats
Thymoquinone Could Increase The Efficacy of Tamoxifen Induced Apoptosis in Human Breast Cancer Cells: An In Vitro Study